Au Jardin Les Amis ("The Friends, In the Garden") is situated in the tranquil Singapore Botanic Gardens, on the second level of an 1920s home. We were seated on a glass enclosed balcony with a relaxing view of the gardens. It is a wonderful setting and was a great place to spend some time on my last day in Singapore.
The service was attentive, professional and was invisible except when needed. The food was very good, it wasn't innovative – but with clean, elegant and pleasing flavour profiles it was memorable for the taste and technique. I have read that this venue can have good and bad days, and I think this must have been a good day as everything seemed to go well.
Like Iggy's, the price was more than fair – the meal consisted of an amuse bouche, an entree, consommé, main course, dessert, les mignardises and coffee and cost $52 AUD (including 7% GST and a mandatory 10% service charge) per person plus wine. I guess when every corner of the city has wonderful (and cheap) food, you have to be fair to stay alive.
The wine;
The wine list is extensive and full of very special bottles, as well as being generally well above my budget!
Donnhoff Oberhauser Leistenberg Riesling Kabinett 2006 (Nahe, Germany) – 8.5% alcohol –
Donnhoff is very quickly heading toward the top of my favourite Riesling producer list. This had aromas of sea salt, pears, tea leaves and mandarin. Delicate and long on the palate, there is some lovely fruit sweetness balanced by superb acidity. Lovely drinking now, but will age well over the next 10 years.
91/100
Bonneau Du Martray Corton Charlemagne Grand Cru 1992 (Burgundy, France) 375ml – 13% alcohol –
Golden straw coloured. Butter, sesame, toast and honey aromas on the nose. Rich and creamy mouthfeel, with enough acid to keep the palate from being flabby. Very good length and texture. Drink now and over the next couple of years.
91/100
The food;
Prawn with Basil and Berry Foam with Apple juice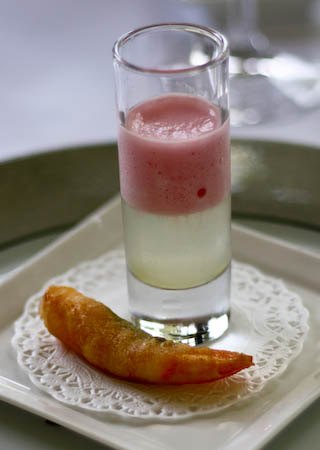 Cougette blossom stuffed with crab meat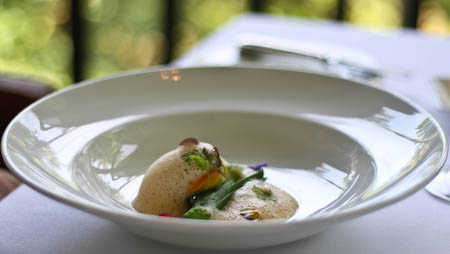 Hon maguro with horseradish and roasted sesame dressing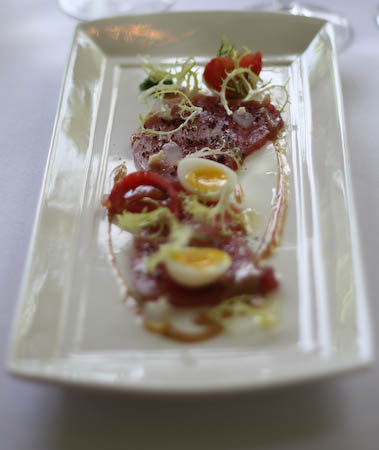 Vine ripened tomato consomme with basil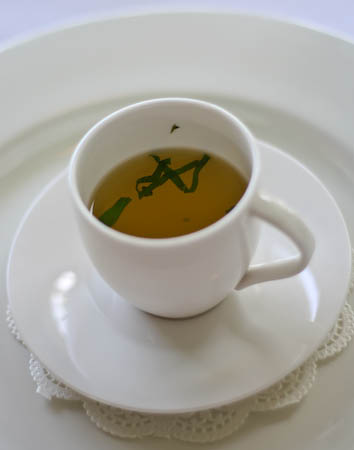 Lightly smoked ocean trout with apple and fennel salad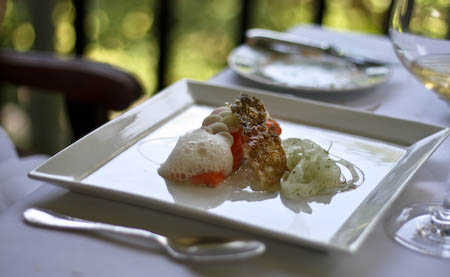 Roasted flank steak and braised oxtail in red wine with seasonal vegetables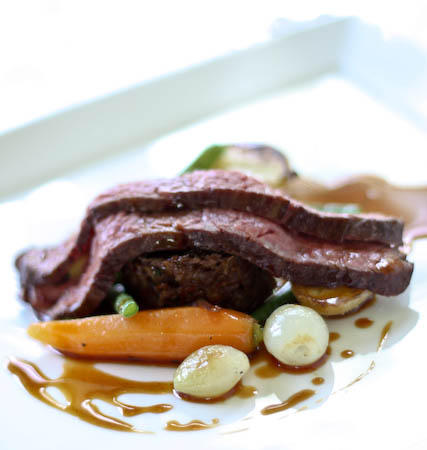 Kirsch parfait with cherry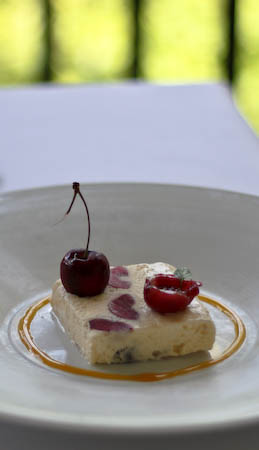 Lychee jelly with lychee sorbet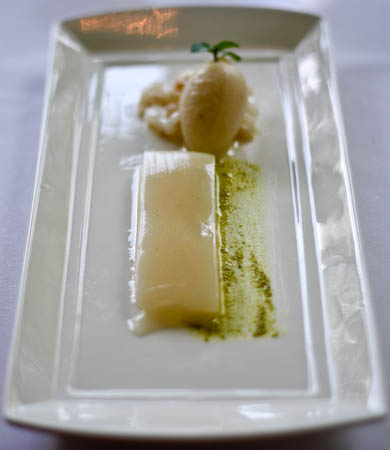 Les mignardises with Coffee